Location, location, location
One of the greatest things about Folly is its size...or rather lack thereof.
At only 6 miles long and 3/4 miles wide (at its widest point), she exudes intimacy and tiny town charm. That being said, locations that offer super-easy access to both the beach, and the happenings of the downtown district, are limited.
Our units are located one block from the beach, and one block from Center Street, where all of Folly's shops and restaurants are located. And you are only a 30 second walk from Bert's Market, a Folly landmark (and the only grocery store on the island), and they are open 24/7/365!
Featured Folly Photo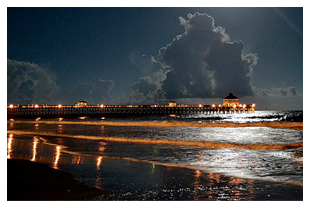 About Omar and Julia
We are year round Folly Beach residents, and in addition to managing our vacation properties, we also own and operate Bert's Market, the only grocery store on the island. We have two daughters, Evelyn (4) and Yoshimi (2), and are currently expecting a new addition come August 2013. We would also like you to know that U2 is the greatest band on the planet.
You can contact us via email, or call Omar @ 336.596.8143, or Julia @ 843.709.3492.
Recent Comments
Wow!! What a fun place to spend a vacation! The house was newly decorated, clean, and in the best location. We were able to have the convenience of a food store, the beach, and the best restaurants within a comfortable walking distance. We especially enjoyed the covered front deck which was fantastic for spending family time talking/laughing and breathing the fresh beach air. Julia and Omar were great and very accommodating. Our family has already talked about our return visit!
Dawn Partin